Twisted Hams
Twisted Hams is currently a band of five unique individuals. Each member, with different backgrounds and tastes, coming together for a musical synergy that is out of this world. Well, not really, but it is pretty freakin' cool.  Twisted Hams is based out of El Paso, Texas with members Paul Hyder – guitar, mandolin, ukulele and vocals; Ron Lambert – drums, percussion, and vocals; Nicole O'Leary – flute, ukulele, and vocals; Randy Russ - guitar, and vocals; and Eric Shelton - bass.  We play original, unique music, with splashes of influence from groups such as Frank Zappa, The Who, Pearl Jam, Miles Davis, and Jethro Tull. We recorded our first CD, "Takin' It Back",  in July of 2012 at El Adobe Studios in El Paso, Texas, and recorded our second, self-titled CD, "Twisted Hams", at Sweat Shop Studios, which was completed in Dec. of 2015. Both were released through CDBaby.com. We have fun and enjoy creating music together. We hope you will check out our music and enjoy listening as much as we enjoy playing it.
 "We take our not-so-serious music seriously."     
Paul Hyder - Guitarist, bassist, vocalist, primary song writer, engineer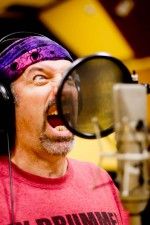 This is Paul Hyder, PhD., singing. He's not really crazy. He just gets into it.  Paul enjoys writing songs and working with the band to make them come to life. He is very creative. He also plays guitar, mandolin, ukulele, bass and sings. 
Ron Lambert - Drummer, percussionist, astronomer, and retired science teacher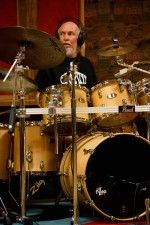 Ron "Rondosonic" Lambert loves to drum when he's awake. "Eat, sleep, drum." Ron's twenty years in the martial arts have given him the discipline, and work ethic, to constantly strive to reach a higher level of drumming. We just hope he's wearing underwear when he goes up stairs carrying suitcases. 
Nicole O'Leary - Primary vocalist, flutist, chicken wrangler and gardener
Nicole O'Leary

 

started at an early age taking piano lessons. She learned to play flute playing in the high school band. She now handles vocals, flute, ukulele, and occasionally, percussion instruments. Although Nicole's photos may be a little out of  focus, she is the most focused of us all. Boy, can she step up!
Randy Russ - Guitarist extraordinaire, vocalist, biker dude, and band comic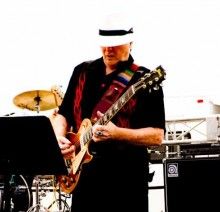 Randy "Phat Daddy" Russ has been an axeman in and around the music scene for about fifty years. He has recorded on a number of albums. Check out his amazing licks on the Dragonfly album. He rides a Harley. Need we say more?
Eric Shelton - Bass player, hiker and biker