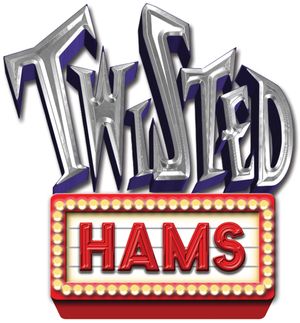 Twisted Hams 
Twisted Hams is currently a band of five unique individuals. Each member, with different backgrounds and tastes, coming together for a musical synergy that is out of this world. Well, not really, but it is pretty freakin' cool.  Twisted Hams is based out of El Paso, Texas with members Paul Hyder – guitar, mandolin, ukulele and vocals; Ron Lambert – drums, percussion, and vocals; Nicole O'Leary – flute, ukulele, and vocals; Randy Russ - guitar, and vocals; and Fred Garner - bass.  We play unique, original music, with splashes of influence from groups such as Frank Zappa, The Who, Pearl Jam, Miles Davis, and Jethro Tull. Check out our music and we hope you enjoy listening as much as we enjoy playing it. 
Music: https://www.youtube.com/playlist?list=PLEVg6MxwQw1YuMZLC74R2hJ_kpKw15zWq
Videos: https://www.youtube.com/channel/UCv2ANZl7wEx9OVYU3AIrRnw
Venues we've performed at include:                         Radio play: 
               Holloman Summer Music Festival                                       KTEP 
                              Holloman AFB, NM                                                                                         El Paso's NPR provider 
               La Vina Spring & Fall Wine Festivals                                      KA radio, Scotland 
                              La Union, NM                                                                                                 "From Texas and Beyond" program 
                             (Twice a year for six years running)                       Electronic Media: 
                 Las Cruces Music in the Park                                      https://twistedhams.com/ 
                              Young Park, Las Cruces, NM                                                https://www.facebook.com/pg/Twisted-                                                                                                     Hams-159304037483061/posts/               
                 Alfresco Friday Concert Series                   CDs:  https://store.cdbaby.com/cd/twistedhams 
                              Convention Center, El Paso                                               https://store.cdbaby.com/cd/twistedhams2 
                 Star City Studio and Om Gallery                 Contacts: 
                              110 W. Castillano, El Paso, TX                                                           twistedhams@gmail.com 
              Rio Bravo Fine Art                                                         Nicole (915) 613-9418              
                       110 Broadway, T or C, NM                                                 Ron (915) 491-8116               
*Click on the Twisted Hams logo at the bottom of any page to contact us.